January Suchodolski
(Grodno, 1797 – Bojmie, 1875)
Fariz or Caucasian Hunter
1849
Pencil and white lead on paper
23 × 33.9 cm / 8.97 × 13.22 in
Signed and dated lower right margin
Available
€1,600.00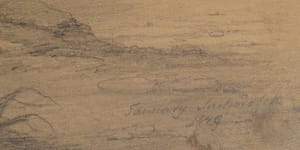 Item details
Good conditions, paper weakly toned.
January Suchodolski was a Polish painter and Army officer, and a member of the Imperial Academy of Arts.
For a painting with a similar subject please see Muzeum Narodowe w Poznaniu collection.
We use cookies to optimize our website and services.
This website uses Google Analytics (GA4) as a third-party analytical cookie in order to analyse users' browsing and to produce statistics on visits; the IP address is not "in clear" text, this cookie is thus deemed analogue to technical cookies and does not require the users' consent.