Hermann Urban
(New Orleans, 1866 – Bad Aibling, 1945)
Abend - Lago di Nemi
1902
Etching
49.5 × 69 cm / 19.3 × 26.91 in
Plate size cm. 45 x 61
Unknown
Pencil signed, titled and dated lower margin
€320.00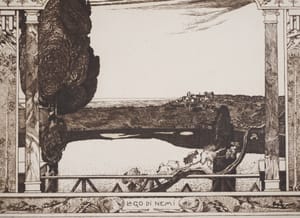 Item details
Rare etching by the America born artist Herman Urban.
This work is published in Emporium Vol.XVIII December 1903 n°108 pag.404.
Good conditions.
We use cookies to optimize our website and services.
This website uses Google Analytics (GA4) as a third-party analytical cookie in order to analyse users' browsing and to produce statistics on visits; the IP address is not "in clear" text, this cookie is thus deemed analogue to technical cookies and does not require the users' consent.