Guido Balsamo Stella
(Torino, 1882 – Asolo, 1941)
Pescatore alle reti, San Pietro in Volta
1913
Etching on Holland paper
31 × 46.5 cm / 12.09 × 18.14 in
Plate cm. 21x23,5
Plate signed and inscribed
€250.00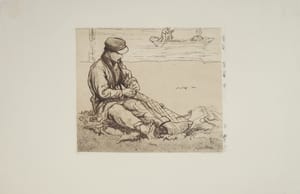 Item details
Guido Balsamo Stella etching "Fisherman" 1913, etching on thin Holland paper, plate signed, date and inscribed.
Another example of this sheet is in Gabinetto Disegni e Stampe Fondo Balsamo Stella.
Good conditions, soft handling crease on the margins.
We use cookies to optimize our website and services.
This website uses Google Analytics (GA4) as a third-party analytical cookie in order to analyse users' browsing and to produce statistics on visits; the IP address is not "in clear" text, this cookie is thus deemed analogue to technical cookies and does not require the users' consent.