Henri Laurens
(Paris, 1885 – 1954)
Femme allongée au bras levé
1950
Lithograph on Arches paper
38 × 56.5 cm / 14.82 × 22.04 in
9/200
Pencil signed and numbered lower margin
€800.00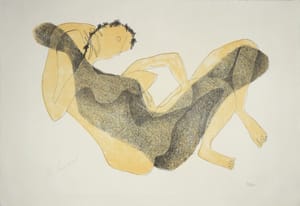 Item details
The lithograph "Femme allongée au bras levé" by Henri Laurens was edited by Guilde de La Gravure, Geneve (blind stamp) and printed by Mourlot, Paris.
Good conditions.
Reference: catalogue Volker n.30
We use cookies to optimize our website and services.
This website uses Google Analytics (GA4) as a third-party analytical cookie in order to analyse users' browsing and to produce statistics on visits; the IP address is not "in clear" text, this cookie is thus deemed analogue to technical cookies and does not require the users' consent.